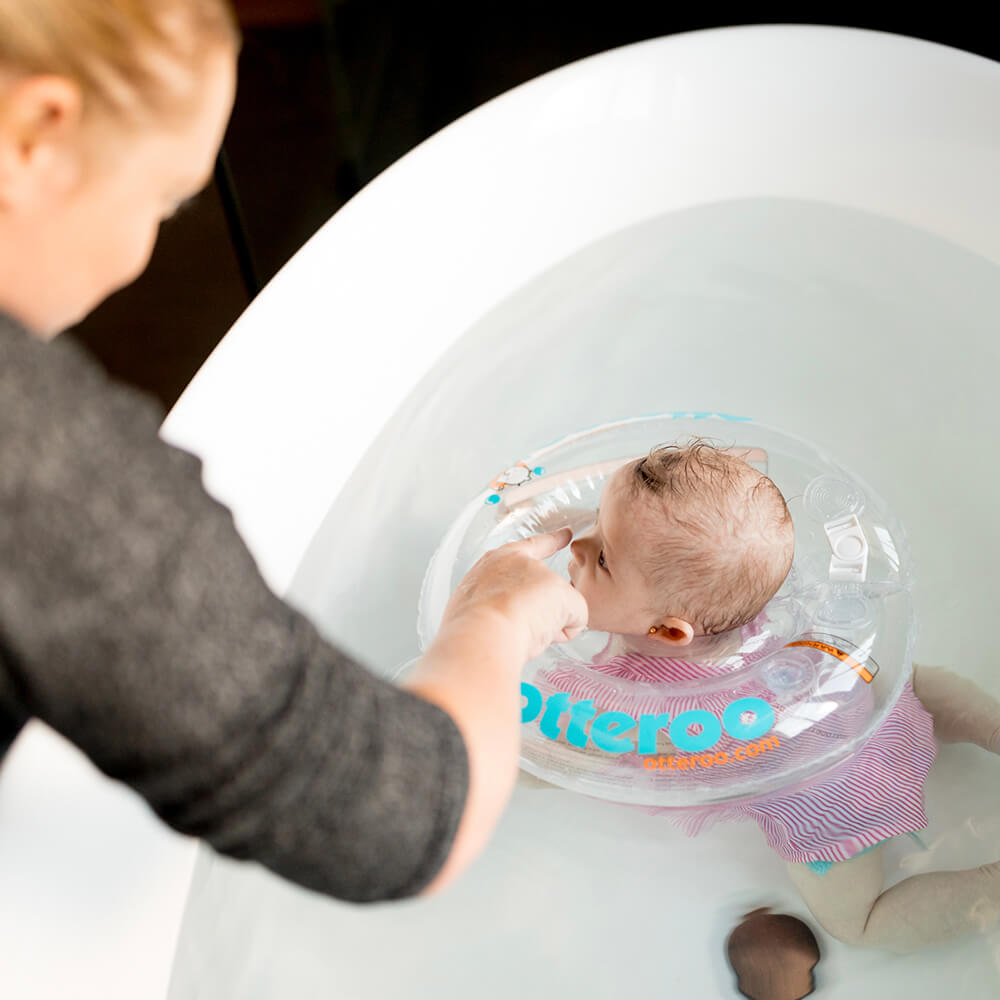 We Stand by Otteroo's Safety
Hello and Welcome!
This is Tiffany Chiu, the founder of Otteroo.
Whether you are here because you think Otteroo could be great for your little one OR because the media has convinced you that we put profits over safety, I sincerely thank you for your interest in our perspective.
I am grateful for the incredible and supportive humans we have met along the way, and most importantly, the honor to bring smiles to over 440,000 babies so far.
We appreciate the people who work at the U.S. Consumer Product Safety Commission (CPSC) who are doing what they think is needed to keep Americans safe, in particular, infants and children who are especially vulnerable.
However, we stand by the safety of Otteroo neck floats.
I hope to share with you here:
The rationale behind our commitment to continue to sell Otteroo.
An update on our conversations with the Food and Drug Administration (FDA) and what we are planning to do to collect empirical data to support the classification of Otteroo as a medical device.
Our ultimate goal which is to collaborate with the CPSC to:
Make sure families have access to high quality and safe neck floats for years to come, as many have come to love and even rely on our float as part of their daily routine with their little ones.
Launch "Stepping Away for 'Just a Second' Is One Second Too Long," an awareness campaign focusing on the importance of baby water and bath safety.
If you want to let the CPSC and FDA know how Otteroo has made a positive impact, please share it here and we will pass it along.
We believe that the Otteroo is a safe and useful product. With over 440,000 Otteroos in homes across the world, there have been nearly 9 million safe uses (assuming each household uses it 20 times, but we know many use it much, much more!). 
We also know it's a life-changing product for many families of infants with special needs, who experience movement with Otteroo in a way they simply never could on land due to their disability. 
While we wish all Otteroos were 100% tear-proof or could never deflate, nothing can be–as you know from your experience with other inflatables, such as tires, basketballs, and air mattresses (which always seem to spring a leak when you're about to head out camping). 
Babies slipping through Otteroo, due to deflation from a slow leak, can and does happen. And we understand it can be a very scary experience to some parents. 
However, as long as the parent is exercising common water safety, and is within an arm's reach and can pull their baby from the water, then no harm is done.
This is why we stress the importance of checking for leaks in Otteroo, or any inflatable used in water, before each and every use. 
More importantly, though, we implore parents to be within arm's reach of their infant at all times while they are in the water – with an Otteroo or not. 
I was petrified of water growing up and never managed to get over my fear. I only "somewhat" learned to swim because Cornell, where I graduated from, had a really old and strange "swim three full laps in an Olympic-sized pool" graduation requirement.
This sparked my interest in creating a product that can help babies foster a love of water.
In our early days, I cold-called a lot of developmental experts and medical doctors at teaching hospitals in and around San Francisco. They all wanted to meet in person! 
They all thought Otteroo was a brilliant idea – a game changer to allow infants to start physical therapy interventions early was often the first lightbulb that went off for them.
There are many studies examining the benefits of aquatic therapy and early interventions. This study (not with Otteroo) concludes that there is a relationship between aquatic exercise, respiratory outcomes and functional activities in water and on land in children with Neuromuscular Disorders. 
We were also excited for Otteroo's potential to kickstart infant development. 
When you think about it, it just makes sense – the earlier your baby is able to experience self-produced locomotion (moving from point A to point B), the sooner their brain is able to start understanding cause and effect. 
A 10-year longitudinal study involving 374 participants concludes that "Infants who were more motorically mature and who explored more actively at 5 months of age achieved higher academic levels as 14-year-olds."
Please note that we are NOT claiming any benefits until we have more data, but the above are pretty solid reasons to explore further. And we were excited and humbled that many academics agree and were interested in working with us to quantify how Otteroo may be beneficial! 
Here are some of the peer-reviewed studies. 
We have been gratified to see so many families recognize the value of the Otteroo, many reaching out to share their inspiring stories, whether seeing their baby smiling for the first time or seeing their infant, whom they were told could never move, doing "normal" things in water. If you need a pick-me-up, please check them out here. 
Later, we were so humbled and honored to see Otteroo being used in research hospitals like Children's Hospital of Philadelphia and included in care packages sent to families of infants newly diagnosed with Spinal Muscular Atrophy (SMA). 
Although both warn of drowning risks, the FDA acknowledges that drowning only happens if the baby is left alone; they are more focused on the potential of neck strain, especially in the special needs population, which we will address further on. 
CPSC, on the other hand, believes Otteroo is defectively designed because it could deflate if there is a leak. We don't refute their belief that a baby who wears a deflating Otteroo is at risk of slipping out of the device into the water. However, this would not be fatal if they are closely supervised.
First of all, I would like to extend our sincerest gratitude to our community of parents. They rallied and got the attention of the FDA by emailing their positive Otteroo stories to Jeff Shuren, Director of the Center for Devices and Radiological Health at the FDA, after the Safety Communication came out in June 2022. 
We have had multiple meetings with the FDA, and in our latest with Dr. William Maisel (Chief Medical Officer and Director, Office of Product Evaluation and Quality of the FDA), he clarified the reasoning behind the FDA's statement about neck strain as a possible risk: "...young infants typically lack strength and neck control to fully hold their heads upright. In addition, low muscle tone and prolonged head lag has been associated with infants with certain disabilities." 
Per the recommendation from Dr. Maisel, we are actively moving forward to discuss the type and extent of evidence necessary to show that Otteroo is safe when used as instructed, and discuss the path forward for Otteroo to be classified as a medical device (in FDA-speak, we will be requesting a pre-submission meeting).  
We are working with a research study design team and plan to present our proposed studies to the FDA. The study endpoints will: 
Measure the effectiveness of Otteroo at supporting an infant's head while in the water.
Calculate the force on an infant's head / neck as a function of their weight (from the neck down) when they are in the water wearing the Otteroo.
We know the weight is miniscule because buoyancy significantly reduces a person's weight when submerged from the neck down, as reported in a study performed in 1987 which found that with immersion to the C-7 (neck) level, weight bearing was reduced to only 5.9–10% of actual body weight.
In the case of an 11 lb infant, their body weighs at most 1 lb in water (we measured internally with a volunteer), which translates to 4.5 newtons. During a vacuum-assisted vaginal delivery, an infant's neck must withstand external forces of up to 115 newtons (during each of the 2-3 pulls), which is significantly higher!
But the FDA is all about data, so we must determine what they deem acceptable to prove Otteroo's safety. 
If you are interested to learn more about Otteroo and its benefits, check out these peer-reviewed studies! Or jump to the heart-warming testimonials that keep us going. 
We have done our best to be completely transparent and work with the CPSC every step of the way from the very beginning.
Unfortunately, a tragic event that occurred in 2017 amplified their fear that parents would leave their infants unattended while in an Otteroo.
In this incident, a mother left her child unattended in a bathtub for an extended period of time. We disagree with the CPSC's assumption that the Otteroo is responsible. (NOTE: We don't know if the CPSC believes it was the fault of the Otteroo. They may believe it is the mother's fault. Either way, a child died and that gets their attention.) The mother in this incident was part of a 2-year police investigation and she changed her story about whether the child was left alone in the tub, in the bath seat, or in the neck float. 
CPSC is apparently convinced that parents will leave their infants unattended in an Otteroo while also believing that because Otteroo carries a risk of deflating, it must be defectively designed.  But no inflatable device can be designed to be 100% leak-proof. We believe that CPSC's position here would set a precedent that could require virtually all inflatable products to be taken off of the shelves.
Safety has always been our number one priority.
The CPSC has reviewed (and approved) our design, manufacturing and quality assurance plan, warnings and instructions before we launched the second generation of Otteroo classics.
In 2017 – before we started production of our second-generation Otteroo, called the LUMI – we voluntarily shared our design for LUMI with the CPSC because we wanted to be completely transparent. 
Moreover, we have been providing documentation on all incidents of slip-throughs since 2015 including interviews with the parents. We have always voluntarily provided this information to the CPSC when requested.
Most slip-through cases have come to our attention when the parent reaches out with a replacement request. We believe that parents tend to not be alarmed by the slip-through because 1) it is sufficiently warned about, and 2) a baby slipping into the water isn't only possible with Otteroo; babies can slip out of bath seats, hands, etc. However, as long as the parent is with their child and attentive, no harm is done and the baby is pulled out of the water almost instantaneously. (Though, as noted earlier, we do understand for some, seeing their baby slip out of a neck float is a scary experience.) 
CPSC attempted to interview every single parent on the list we provided them. These interviews, which we were sent and reviewed, confirmed that all parents were within arm's reach when it happened.* We believe that this proves that our warnings worked. 
*NOTE: The family of the infant who tragically drowned never reached out to us directly. We were not able to identify who they were until 2022 when a redacted report became available and out of respect, we have never attempted to reach out to them. 
The very first thing I did when I was contemplating starting Otteroo was to find a lawyer who specializes in product liability to make sure that there was a way to clearly write the instructions and warnings to ensure parents know how to safely use Otteroo. I knew this was of paramount importance, given that it was 1) a baby product, and 2) one used in water! 
While we understand that the CPSC believes that, in some situations, a product cannot rely on its warnings for its safe use, we don't believe it is a realistic position.  
We believe warnings are essential to ensure safety for innumerable products on the market, including car seats which undergo rigorous testing and are in nearly every household with an infant. 
Yet, no matter how safe a product is made, tragic events can happen–even in CPSC-approved products like car seats and cribs.
According to the American Academy of Pediatrics, a "10-year study of 11,779 infant sleep-related deaths showed that 348 babies died in sitting devices, in most cases while in car seats. More than 90% of the time, the car seats were not being used as directed. The median age at death was 2 months." 
This is heartbreakingly tragic, but it also highlights the importance of education no matter how much we think something is common sense. 
Will neck floats completely go away if Otteroo didn't exist?
No, because it is really easy to sell products online, and it is even easier to remain anonymous and untraceable. There are many sellers producing cheap versions of neck floats, often with no warning and instructions, or ones written in a different language. 
The fact is, Otteroo is the only responsible seller of neck floats in the U.S. 
We know from our interviews with parents that despite warnings from the FDA and the CPSC, Otteroo's benefits outweigh the potential drowning risk, which can be easily mitigated by close and constant supervision.
So if Otteroo is not an option, people will still have access to inferior, dangerous neck floats. Regulating these sellers is a never ending game of whack a mole; they might go away but others pop up almost immediately. 
In CPSC's history of attempting to remove products they perceive as unsafe, they have reversed some decisions and instead collaborated with the industry to come up with better safety standards because consumers don't want to part ways with the product category. These categories include ATVs, button batteries, and baby slings. 
With these products, the CPSC has chosen to establish safety standards that manufacturers and sellers must comply with. If the product doesn't comply, then the manufacturer will be required to recall the product. There are no safety standards for neck floats. We would welcome them.
That's what our ultimate hope is – to have a productive conversation with CPSC because we both share the same goal: to keep babies safe.
We are hoping they will open the communication channel with us!
However, the issue is not the product which we believe is as safe as any inflatable can be – it's more broadly water safety education. 
Drowning in the bath will not go away unless we better educate the parents and caregivers about the importance of ALWAYS supervising children while in and near water. 
In CPSC's own research titled Submersions Related to Non-Pool and Non-Spa Products 2012, they concluded that most non-pool and non-spa related submersions happened during lack of supervision, during bath time, with bathtub or showers being the most usual product. 
We want to work with the CPSC to issue a joint statement (like this joint press release) to emphasize the importance of water safety, especially during bath time.
Stepping away for "just a second" is one second too long. 
If what you have read resonates with you, please buy an Otteroo or tell a friend to buy an Otteroo.
If you want to let the CPSC and FDA know how Otteroo has made a positive impact, please share it here and we will pass it along.
If you have more you can offer (i.e. knowledge on how to work with the FDA, credentials to conduct studies using Otteroo, money to help us pay for our legal bills), please write me at tiffany@otteroo.com. 
Thank You for Reading
We really sincerely believe that a world with Otteroo is a more joyous one because babies just love being able to defy gravity and move freely!
I will leave you with some of the testimonials that have inspired us to keep on floating!
Testimonials
"Until you see it being used and you realize, based on body position, that there's really not much stress on the neck at all. It's more of a positioning advantage…Aqua therapy removes a lot of the weight from her legs and arms and makes it easier to practice form. It was really just what she was able to do in the water, starting to roll, which requires muscle coordination, and propelling herself to go after floating toys."
–Dr. Eichenberger, Pediatrician & Otteroo Dad to Baby with ADNP
"Preemies miss xyz number of weeks in utero and therefore, the extra time in amniotic fluid where they develop a fluidity to their movements. Being in the water is one of the best things, I am a huge proponent of water therapy. Children love to succeed and the neck ring allows them to be like their peers because water levels the playing field."
–Angie Munch, Pediatric Physical Therapist
"Immediately, all shakes went away. Being able to explore the water and his nervous system not being over reactive completely put a calming blanket over him. He hadn't explored his arms & hands because they're so used to being out of control. I put him close to me, and he'd kick off my stomach, and you could see him like, 'Oh my gosh, my legs work!'"
–Shea, Foster Mom to Infant with Neonatal Abstinence Syndrome
"We can also help them more physically when they've got the neck ring on, because there's some kids who have no head control. Normally we would be holding their head up, and would be very limited in what we can help facilitate at their arms and legs.. So then [with the neck float] we can be working on their arms and their legs, whether it be stretching, or showing them how to kick, or showing them how to move their arms to splash."
–Kailee Noland, Pediatric Physical Therapist
"During her short life, we used a variety of adaptive items to help her experience the world and use her body as best she could. The Otteroo was one of two items that made the biggest difference for her quality of life. When she was in the tub in her Otteroo, it was like she was in a different body. She could move her arms and legs freely and twist and turn, things she could not do otherwise. She loved it and was thrilled every time. A bath and the Otteroo became a daily activity for us."
–Ken, Father to Infant with Type 1 SMA
"I saw Lincoln move like ... it's going to bring me to tears right now (pause) ... how much I saw him move in a matter of minutes; the change in him. He was twirling in the pool. He was putting himself in a curling position. He was reaching for toys. He was using both of his legs to kick out. I just sat there crying for a good 45 minutes because I didn't think I'd ever see him move the way he was moving…In those few days we saw him breathing better. We saw him moving more and seeing his movements were stronger when he was out of the water and he was sleeping better. He just had this better attitude and I said, 'I'm telling you, the only thing that we have changed this week is that Otteroo.'"
–Sarah Schwartz, Mother to Baby with Type 1 SMA
"The therapist suggested getting one for home, and so we did. Usually the things that they suggest getting, we don't. You look them up and they're so expensive."
–Rachel, Mother to Infant with Cerebral Palsy
"Water resistance is so great for building and strengthening any muscle, but especially when you have a kid or a baby with low muscle tone. It's so important for them to develop muscle tone, so giving them a way where they can be in the water and kick their legs and arms freely is just so wonderful. Before that, I was holding her in the water where she could kick her legs, but not her arms and her legs at the same time."
–Terah Jones, Nurse & Mother to Infant with Down Syndrome
"I told the therapist that it is what works best. We've tried a lot of other things. We've tried a lot of expensive other things and they haven't worked. The Otteroo is what he's worked with best."
–Ana Tomson, Mother to Child with Cerebral Palsy
"Now, they're able to focus on a lot more things with occupational therapy. Occupational therapy, a lot has to do with her hands. A lot has to do with her holding stuff, with her treading water, with her throwing stuff. Before the Otteroo she wasn't really able to do that, because she was being held, and being constricted from that movement."
–Nestor Lopez, Father to Child with Cerebral Palsy
"He no longer has scoliosis. His physical therapist attributed it to the fact that instead of always laying down or being propped up, now he can get into the tub or the pool and have complete free range motion."
–Melissa Lane, Mother to Child with Hypotonia
"Her teachers let me know that she can move her legs more at school and notice less spasticity. As parents, we know her tone is better from exercising in the pool. We can see a huge difference in her muscle tone. Her legs aren't as tight. We feel hopeful that her muscles and strength will improve vastly using the otteroo. Her second time in the walker the therapist never had to stimulate her muscles. Juliana was able to pick her feet up on her own and take steps. As parents we feel the Otteroo has been life-changing for her."
–Julie McBride, Mother to Child with Cerebral Palsy
"This is the only thing that works, because so many of them are bulky, they're uncomfortable or they're made for kids who need assistance, but that they do have that neck and back control."
–Brooke, Mother of Infant with Cerebral Palsy
"We have seen lots of other SMA families use it, and it's just incredible to watch them kick and move around. It's something that they're not usually able to do."
–Amanda, Mother to Infant with Type I SMA
"I put him in there thinking he's not going to move, but once he was in, all of the sudden I saw him moving his legs! He was moving them so much, I literally started crying. I sent the video to his occupational therapist, and she was amazed too. She told us that we needed to start doing it every single night."
–Jessica, Mother to Infant with Type I SMA
"Over the past three years, we've tried out so many different devices. We've tried infant bathtubs, but now he's too long for them. We've tried special needs bath chairs, but he just sits in place…For him to be in a pool and exercising, it's not just good for his muscles, it's good for his entire digestive system, his spirits and happiness."
–Kate Lane, Mother to Child with FOXG1
"When she is in the water with the Otteroo on, she will actually extend her hands out. She will open her fingers. The first time I put her in Otteroo was the first time I saw her body, on her own, go from here [close to her body] to…relaxed."
–Taylor, Pediatric Speech Therapist & Mother to Infant with Mixed Muscle Tone
"I didn't notice that it was putting any strain. You have the buoyancy of the water already, and then because of the way it is designed with the chin rest, it's straight up and down, instead of pulling their head backward or forward… I watched her; she was completely comfortable, breathing normal, able to move everything around. It's a totally safe position of the neck, it's not extending it, or twisting it in any way."
–Juli Westcott, Mom & Chiropractor